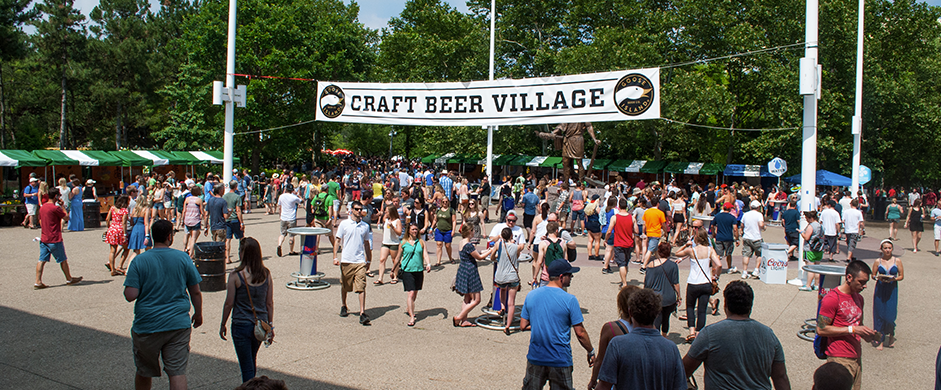 Goose Island Craft Beer Village
Stop by the Goose Island Craft Beer Village! This is the place for the beer geek in all of us. It's located North West of the Pavilion Stage near the Cincinnatus statue.
Brands available include:
Hoegaarden
Leffe
Kona Big Wave
Kona Longboard
Goose IPA
Goose Summer Ale
Goose 312 Wheat
Goose 312 Pale
21st Ammendment - Watermelon Wheat
Lost Coast - Tangerine Wheat
Schlafly Kolsch
Schlafly Summer Lager
Blue Point Toasted Lager
Blue Point BlueBerry Ale
Bunbury Brew - American Ale
Yuengling Summer Wheat
Redhook Audible Ale
Redhook Longhammer IPA
Goose Matilda
Goose Sofie
Widmer Hef Shandy
Widmer Upheaval
Shocktop Banana Wheat
Stella Artois
Sierra Nevada - Pale
Brooklyn Summer Ale
MISSION
Why Goose Island Exists
To lead in the craft of brewing by creating award-winning beers that define classic and innovative styles to capture the hearts, imaginations, and palates of beer drinkers.
OUR VALUES
What Guides Our Decision Making
We are guided by our respect for the history and culture of beer as well as our passion for, and innovation in, brewing. We wish to enrich the cultural landscape of Chicago and support the inspirational organizations within our communities. Furthermore, Goose Island champions sustainability in our breweries (and beyond) as well as actively celebrates and engages our employee
HISTORY
Our famous beer began with a trip across Europe, when Goose Island founder (and unabashed beer lover) John Hall took a tour across the continent. Pint by pint, he savored the styles and selections of brews in every region, and thought to himself, "America deserves some damn fine beer like this, too."
Craft brewing wasn't widely known at the time, but upon return from his European sojourn, John set out to change all that. He settled down in his hometown of Chicago—a city perfect for craft beer, with rapidly evolving tastes and the largest system of fresh water on the planet. And then he got to brewing.
First he made some stellar beer. Then he invited his consumers in to watch his process at the brewery, bringing them behind the scenes every step of the way. The result was a new fascination with craft brewing, and beer that not only catered to people's tastes, but challenged them as well.
That was back in 1988, and we haven't slowed down since. By 1995, John's beer had become so popular that he decided to open a larger brewery, along with a bottling plant to keep up with demand. 1999 brought even more growth, along with an additional brewpub, and today, what was once one man's pint-filled dream has become the Goose Island empire you know and love.
HOP INFO
Tucked away in a secluded valley in Northern Idaho is Elk Mountain Farms – the place where Goose Island hops are grown and harvested. Head Farmer Ed Atkins shares the same passion and commitment to great beer as our brewers, and together they've worked to grow the farm from a 70-acre operation to a 1700-acre hop heaven. Here, over 50 different types of hops, including Goose Island favorites like Saaz, Amarillo and Cascade are cultivated along with numerous experimental varieties that could one day push the boundaries of beer for drinkers and brewers alike. Elk Mountain is more than just soil and plant life; it's a laboratory, a studio, a blank canvas on which to paint the future of Goose Island beer. Watch the video above to get a taste of this magical place or click here for a chance to experience it.